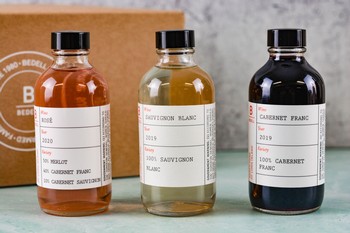 CORNELL VIRTUAL TASTING KIT
Enjoy the Bedell tasting experience along with Cornell Alum Winemaker, Rich Olsen-Harbich on Tuesday, June 8. Pre-order by Wednesday, May 26 - only 75 kits available. Includes 4oz each of Rosé 2020, Sauvignon Blanc 2019, and Cabernet Franc 2019 portioned for a tasting for two people.

Individual bottles also available for purchase, see below.

*Tasting kits have a shorter shelf life than conventional bottles. We recommend you refrigerate and/or consume the wine within a week of delivery. View the UPS transit time map here.