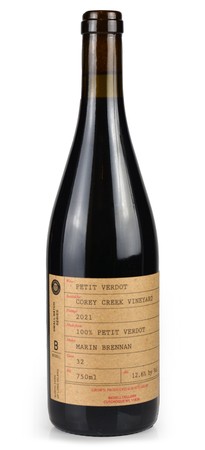 PETIT VERDOT 2021
Petit Verdot, historically celebrated as a blending grape, reveals its true essence in this exceptional offering. Hand-harvested on October 25th, the small, loosely clustered grapes, renowned for their late ripening, underscore our unwavering commitment to quality.

In our winemaking process, we embrace wild yeast fermentation in stainless-steel tanks, implementing pump overs to immerse the ascending grape skins. This meticulous technique not only elevates the wine's fermentation, structure, and color but also showcases its inherent character. Following fermentation, the wine is gently pressed away from the skins and entrusted to the care of neutral barrels for a protracted maturation of 21 months. These neutral barrels, distinguished by their minimal oak influence, serve as a pristine canvas, allowing Petit Verdot's dark berry fruit essence to take center stage.

Sourced exclusively from the abundant 2021 vintage, this wine stands as a pure embodiment of Petit Verdot, boasting a profound, rich purple hue and a full-bodied character.